About AFA
The Arctic Fishery Alliance Limited Partnership (AFA) is a 100% Inuit owned and controlled partnership consisting of four Nunavut communities and their respective Hunters and Trappers associations. The owner communities and their HTAs are:
Qikiqtarjuaq - Nattivak HTA

Grise Fiord - Iviq HTA

Arctic Bay - Ikajutit HTA

Resolute Bay - Resolute Bay HTA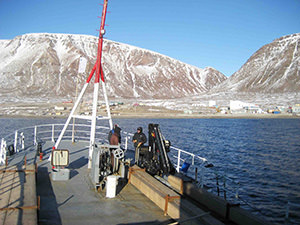 AFA was formed to ensure that the real beneficiaries of the allocations of Nunavut Offshore quotas are the residents of the four communities and their HTAs.
Arctic Fishery Alliance aims to support the residents of its member communities and all of Nunavut by maximizing Inuit employment and developing social and economic projects in each community. AFA will foster these benefits by sustainably harvesting and processing-at-sea fish off the east coast of Canada and establishing a globally recognized reputation as the premier seafood producer in Nunavut.